The Method
From birth, our sons and daughters may need support, the evolving brain areas are yet to connect and they will shape that connection through the stimuli they will receive in their daily lives.
At anda CONMiGO, we know how to connect and activate all these reflexes, maximising all your abilities and fostering and/or strengthening existing ones. We are based on evolutionary growth and identify any needs at the moment of your life.
We are based on a therapeutic approach, either from healthcare or educational professionals, based on our knowledge tool and new areas of research, which allows us to approach, evaluate, systematise and develop the best therapy for the evolution of your child.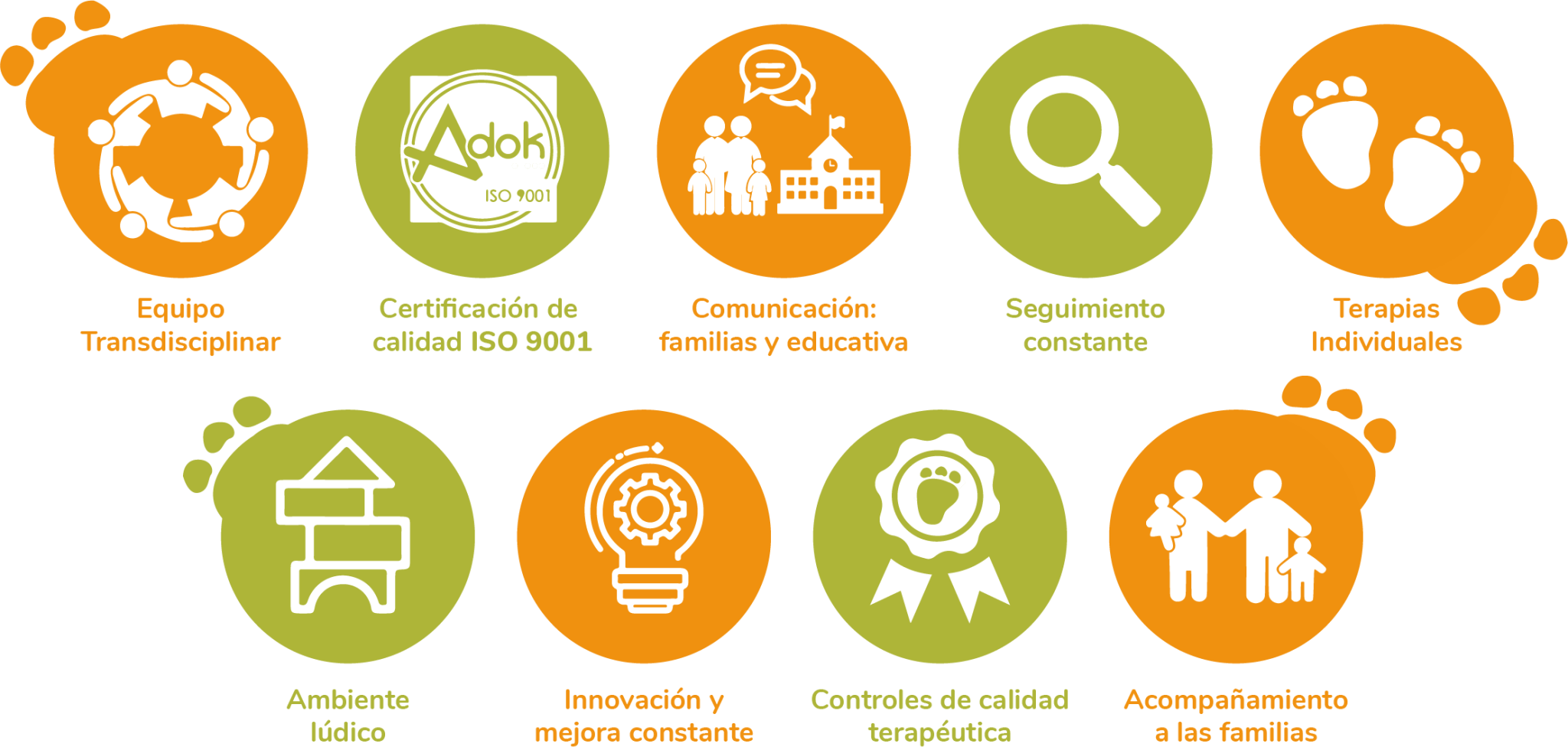 Our principles:
Health and Education
INTEGRAL
Addresses all areas of development and maturation
INTEGRATOR
It allows for the incorporation of all individual and group experiences.
PREVENTIVE
It allows the detection of any significant change in the evolution of each child, providing the most appropriate action in each case.
VIVENCIADA
It starts from the child's experience and activity, incorporating individual meanings into the school experience as the social nucleus in which they communicate those meanings.
SYSTEMATICS
It facilitates the organisation of the experience, and serves the therapist as a tool for OBSERVATION - INTERVENTION - EVALUATION of his or her therapeutic practice.
GENERALISABLE
It can be applied in any context or situation.
SUSTAINABLE
A standardised economic model where any therapy has the same cost regardless of the therapeutic line that performs it, achieving family loyalty and ensuring the evolution of our user.
ADAPTABLE
Therapy is adapted to the child and never the other way around.
All our therapists go through a three-level selection process, in which our centre director and our head office assess the ability of each professional.
Our therapists must follow anda CONMiGO's methodological guidelines, for which they are trained prior to the start of their sessions. To know and love the brand is to love our children.
Quarterly continuing education allows them to develop all their skills and a global vision of all areas, further enhancing their therapeutic knowledge.
anda CONMiGO, all of its centres are ISO:9001 certified, which allows us to carry out audits to ensure the correct quality of the work method and its implementation. This is done from anda CONMiGO's head office, ensuring the confidentiality of the information and validating that the therapy carried out is as effective as possible.
One of the objectives of anda CONMiGO is to move forward, in an alternative reality, where we can carry out all our therapies and activities without moving from our room, something already known as Metaverse and in which we are developing our plan of action.
Through our areas of innovation, we will be able to create a parallel and complete virtual universe, which we will be able to access with virtual reality and augmented reality devices, so that we can interact with each other inside it, and from outside with the content we have inside.
All of this, through devices such as virtual reality and augmented reality glasses, which offer an even more realistic experience.
But beyond that, there is what it allows us to do and how to apply this technology to our therapies, allowing us to simulate environments where our users interact and learn from a therapeutic point of view, something we will soon be applying to our ASD and PCI users.
Our team
Each and every one of our professionals must pass a selection process that ensures the correct completion of the anda CONMiGO method.
The knowledge of children, specialised in early care and maturational development and a multidisciplinary team, will ensure the quality of the evolution of our work. To this end, we provide in-house training that also ensures knowledge of the areas of each working team. In this way we are able to identify signs from other therapeutic areas and develop combined therapies.
Our commitment
To ensure the correct implementation of the anda CONMiGO method, we have internal monitoring processes. These processes ensure that all implementation activities are carried out, from internal management with the family and the team to external coordination with centres, educators and health professionals.
In a 360-degree process that ensures how the centres should function, walk with me.
Our foundation
Furthermore, through our foundation, we can study and analyse more and more the evolutionary processes and elaborate new procedures in this area and on the other hand, the centres approved by the foundation allow us to study and analyse the situation of the families that need a type of follow-up from the area of social services and in this case within the process that we define with our foundation, the Foundation anda CONMiGO.